In The Spotlight: Tara Lin, Owner, Avec Amour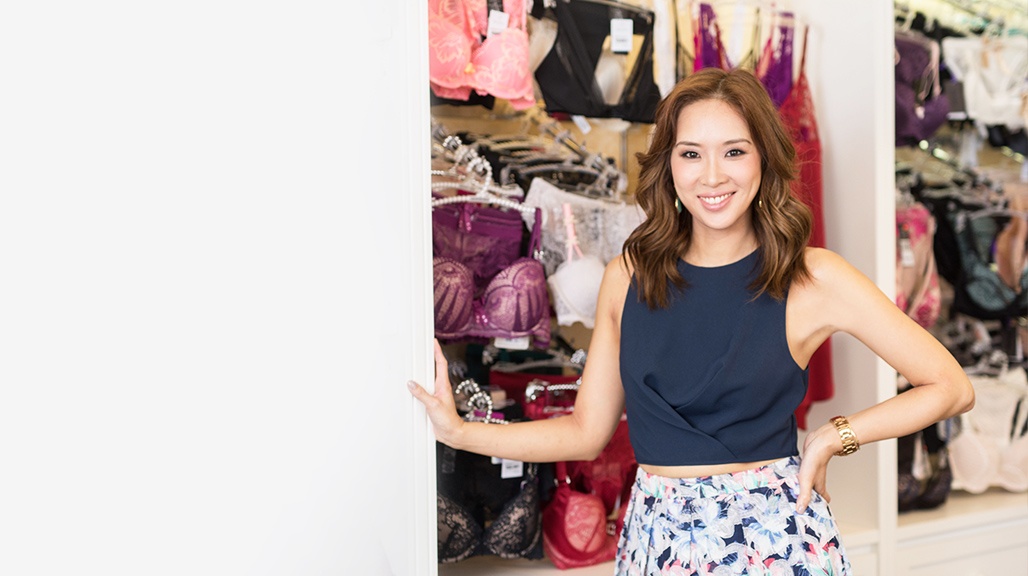 Sometimes, all it takes is a leap of faith for us to have the courage to do more than we could have ever dreamed or imagined. Tara Lin followed her gut feeling, and her vision, passion, and determination has enabled her to live the life she wants – doing what she truly loves, while living a happy, balanced life.
---
This is her story.
Tell Us About You And Your Business. Was This Always Your Dream? Who Inspired You In Your Venture?
I was originally from Melbourne, but now based here in Singapore with my husband and three young kids.  My earlier career path was a mixture of business development, accounting, and marketing – which actually turned out to be a great foundation to start a business.  In 2007, I started my first business called Nude Waxing in Hong Kong which since then has expanded to three branches across Hong Kong Island.  Four years later, I decided to open my second business called Avec Amour, which is a lingerie boutique and online retail store for international designer lingerie brands such as Stella McCartney Lingerie, Heidi Klum Intimates, Cosabella, and more.
I suppose this is my dream job, but I never imagined that I would be in these industries – let alone running my own business.  However, when I saw the opportunity in Hong Kong to open a Waxing Hair Removal Salon, it was just too hard not to follow my gut feeling.
My inspiration? Definitely my husband.  He always encouraged and envisioned (somehow) for me to start my own business
To Feel Scared Is Normal
For a long while, I was very much on the fence about starting a business all on my own; but one day it really just hit me – and I just had this feeling that the business will work. The vision, passion, and determination all flooded in from there.
We – especially women – find it difficult to build up the confidence and courage to make a big life decision, especially when it comes to our career.  To feel scared is normal, but if it's mixed in with excitement then I believe it's worth the jump. That means you have the passion, interest, and drive to succeed in this new career or role.
I have learned so much in my journey, perhaps most significantly: Ask for help when you need it.
At The End Of The Day, I Love What I Do
For me, I feel that it has all worked out even better than what I could have imagined.  I have learnt so much professionally from my success and failures, grown as a person personally, and now have the flexibility to be with my kids when I need to.
Yes, of course there were times when I've felt like giving up!  I think we all have at one point or another; but actually, really thinking about how my life would be without my businesses is not possible.  At the end of the day, I love what I do.
What keeps me up is work and what gets me out of bed are my kids.
And for those who may be feeling like they are ready to call it quits, my advice would be to take a break.  Trying to get out of a rut is a rut in itself. So simply taking a few days, weeks, even months to just not think about it is when you really get a clearer perspective on your life and what your next steps should be.
It's A Lot Of Trial And Error
The biggest challenge for me as an entrepreneur would be IT-related, because I' m hopeless when it comes to anything computers, programing, software, coding etc. It's a lot of trial and error, but the best vendors are usually from word of mouth.
Use Your Skillset And Time Wisely
My biggest failure or lesson in life?Trying to tackle a role that was not suited to me.
Some skills you can work hard at, and some skills you may never have – no matter how hard you work at it.  The latter means you should accept these as your weaknesses and if it's in business, outsource it.  Such as if accounting is a struggle, find someone to help you with it.
Trying to take on everything is admirable and also cost effective. However using your skillset and time wisely will be better towards the effectiveness of running business.
Take Time With Market Research
What would I have done differently? For Avec Amour, I wish I would have started on a bit smaller scale initially and taken my time with market research.
A Quote To Live By:
A balanced life is a happy one.
Get To Know Tara's Business!
Avec Amour Lingerie now available in Singapore – finally, a place to get your favorite international lingerie brands!
Edited by Michelle Sarthou
Image credit: Tara Lin
---
Did you enjoy this post? Please comment, like and share!