In The Spotlight: Gayathri Subash, Travel Lifestyle Expert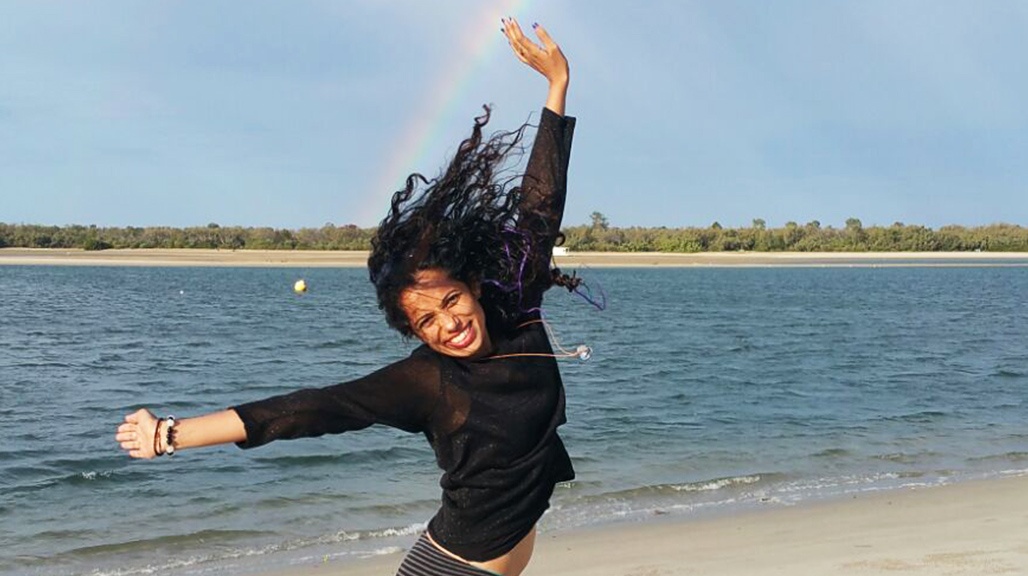 Gayathri's passion for travel and love for the arts fuels her to live a LIFE of fun, freedom and fulfilment. This lifestyle entrepreneur lives by the motto "Aspire To Inspire" and embodies this wholeheartedly.

---
Passionate, fearless, and inspiring. This is her story.
Tell us about you and your business/career, and what you were doing before?
My business teaches travel enthusiasts to travel a new way – bringing more LIFE into their lives by making travel a culture, not just a hobby. In this digital age, having a one-stop platform at your fingertips virtually brings the world closer to you.
My career started in the Finance industry as a FX Data Analyst in Bloomberg. I moved onto building my experience in corporate banking and private banking as a Relationship Manager, before pursuing  Entrepreneurship.
My very first break was from a casual customer who liked the way I worked.  I was headhunted by an HR manager who came to the restaurant where I was waitressing, and he offered me the position, simple as that. Since then, it's been a magical love-hate relationship with numbers till I learnt the fact that "NUMBERS DON'T LIE." I have been headhunted since then to different spaces in the same industry, but was lucky enough to fare well with the help of my mentors – my two men: My dad, my foundation of confidence and ambition; and my better half, my hubby who is my teacher in the "Art Of Living"!


Trying Opportunities Fearlessly

I packed up after a great stint for half a decade in my finance career to pursue my love of arts, and in true essence MYSELF. After two years of running my own small projects of music and dance, I got engaged with the love of my life. After moving onto the status of WIFE, I gradually became more aware of my strengths and capabilities. I started trying opportunities fearlessly, and found great courage in my many failures. Then I found sales to be MY space that I can own. I saw how woman make great sales partners with any company they choose to work with, as they are seriously committed, and great multi-taskers. I found my many mentors in this space and there has been no turning back since then.
Making The Jump Will Let You Move Forward
If you want to make that jump into a new career or positiong, just DO it! Not making that jump will just give you regrets, but making that jump will let you move forward. This growth is poignant in acknowledging your dreams, and your confidence in your capabilities.
Don't procrastinate with matters of the heart. The path might look unclear, but once you start you'll find yourself plowing through every obstacle seemingly in your way.


A Global Citizen
Exploring the world was always my desire since I was young, and I always wanted to be a Global Citizen, connecting with new neighbours everyday, learning about myself through them, and making a difference in the lives of others.
This Shall Also Pass
What keeps me awake at night and gets me out of bed in the morning are my "Aha! moments" the inspirations I draw from people I meet, and how I can cast this inspiration net on all. Knowing that I have a very powerful tool that can allow people to dream again and live a greater life, I wake up every morning feeling so motivated to live my dream lifestyle, and empower the world mentally, spiritually, soulfully, and financially.
And on those days when you feel less than motivated, or ready to call it quits, just remember: This shall also pass.
The First Step Was The Biggest Challenge
As an entrepreneur, taking the first step was the challenge: Getting myself outside of my comfort zone, and making that decision to step away from my fat paycheque corporate lifestyle with its many perks and benefits. It was challenging to gain that courage and faith to believe that there is a staircase, even though I could hardly see the first step.

But when it comes to these challenges,I just accept them and embrace the shortcomings. With these challenges and frustrations, I reflect, and appreciate the journey that has moulded my fortitude. There is so much for me to learn and grow so I take it one step at a time. During my burnt out days, my medication is a good dessert, with a great movie or dance which calibrates me back to focus.
Time Freedom Is My Greatest Joy
My greatest joy and excitement as an entrepreneur? Time freedom! It has given me immense time that I am absolutely grateful for. Time to pursue my passion. Time on my terms.
We Need To Trust Ourselves More
My biggest failure has been not trusting myself, and taking others' opinions as my reality. Quitting on my dreams just coz I couldn't take rejections. Quitting on my new ideas just coz a few discouraged me. Quitting on my gut instincts and going back to my so called "safe harbour". It has made me stronger and wiser to ACCEPT, rather than regret and let it go. It was very important as sometimes more than trusting others, we need to trust ourselves more and embrace loving ourselves. We become too busy pleasing others, keeping ourselves as a last priority and expecting others to make us their priority. Nobody will make you their priority unless YOU make yourself one.  
Insights And Words Of Wisdom
I would definitely start everything EARLIER so I could have travelled half the world and made more money by now!
Please start earlier – and start making mistakes earlier, as every mistake fuels and builds your courage and confidence cylinder.
A Quote To Live By:
Love ♥ Live ♥ Give.
Work With Gayathri!
Make your living A LIVING!  Bring more Fun, Fulfillment, and Freedom in your Life


Edited by Michelle Sarthou 
Image Credit: Gayathri Subash
---
Did you enjoy this post? Please comment, like and share!